Pre Operative for Arthroplasty Patients
Pre Operative guide for Arthroplasty Patients. Your personal guide to successful surgery.
Arthroplasty (also known as joint replacement) is a surgical procedure to restore the function of a joint.  To get the best outcome from surgery we have provided a detailed resources area for you here.
Setting up a Plan
No matter what your goal is setting up a plan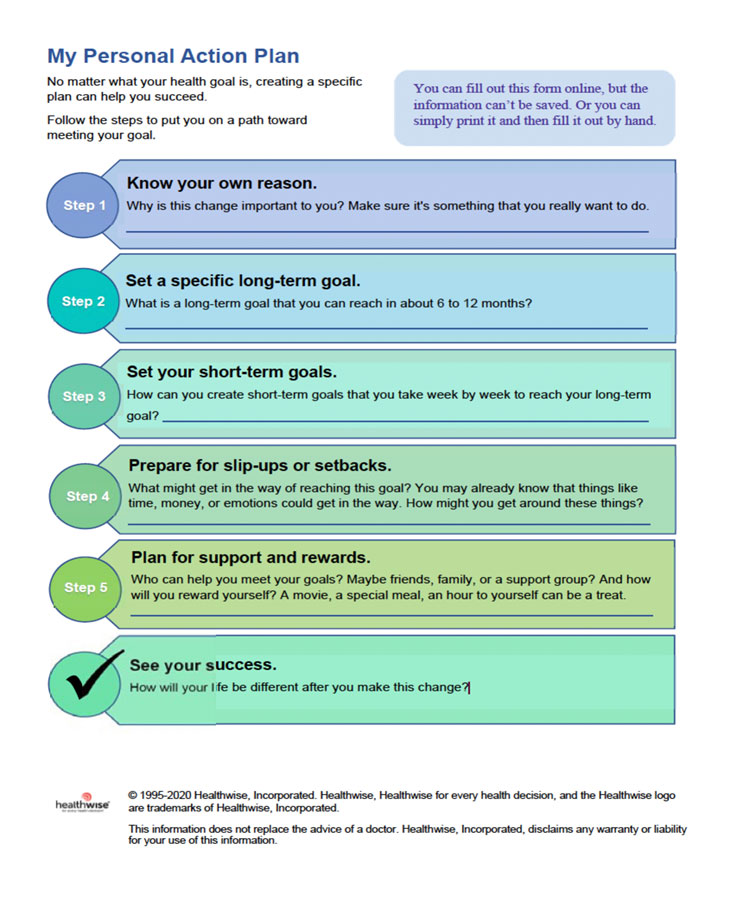 Download and print out your action plan sheet now.
Prehabilitation: Personal Actions and Activation
Prepare and educate yourself for a better outcome

Action and Activation focuses on your involvement in your own health and health care. This includes educating yourself about your health condition, and taking action and increasing your confidence in improving your health, in this case to prepare yourself for surgery, so that you can experience better outcomes after surgery. This is often called Pre-habilitation or "Prehab".  Taking an active role in your own care improves the chances of a successful and fulfilling surgery. 

Download and print a copy of this useful Health Passport  developed by the Specialist Services Committee of BC* 
*An initiative of the Specialist Services Committee, SPOC is also supported by the Shared Care Committee and General Practice Services Committee –three Joint Collaborative Committees that represent a partnership of Doctors of BC and the BC Government.
Personal Action Plan Step 1
Video Education for a better outcome

Immediately begin optimizing your health: ("Pre-habilitation" or "Prehab) Prepare and educate yourself for a better outcome
Designate one individual who will act as your "Coach" during your surgical journey. This person should be available to help you from the day of discharge through the first week after you return home.
Optimize your nutrition if your diet is poor or if you don't eat sensibly. Here is a simple guideline which may indicate that you are at risk for malnutrition.
Strive to optimize your weight if you are overweight or obese (BMI >30). Calculate your BMI here. A 5-10% drop in your weight can improve operative outcomes. Here are some resources to help you achieve weight loss pre-operatively.
Stop smoking or vaping: Smoking and vaping cessation of 6 weeks or more will lessen risks of smoking related complications.
Improve your general fitness. Exercise in any form will help with your general fitness and aid in your post-operative rehabilitation. Consider a pre-operative "pre-hab" exercise program. Prehab and pre-operative exercise.
If you have diabetes or elevated blood sugars optimize your blood sugars. A HbA1C of greater than 7 may result in delay of your surgery. Here are resources to help you address your high blood sugars.
Address anemia. If you have a low red blood count (Hb less than 12.5) please consult your family doctor regarding appropriate investigations and treatments.
Address any acute of chronic dental concerns with your dentist.
Address any serious or significant symptoms of depression or anxiety with your Family Doctor.
If possible, discontinue the use of narcotic pain medication as chronic use is associated with poorer surgical outcomes. Discuss this with your prescribing doctor.
Ensure the safety of you home with secure railings as well as bath bars as necessary.
Once you know your surgical date
Steps to take once you are given your surgical date
Confirm the availability of your "Coach" for the day of the surgery and after discharge. This person should be available to help you from the day of discharge and for 24-72 hours after you return home. Your surgery may need to be rescheduled if you are unable to find a suitable "Coach".
Virtually attend one of the pre-op teaching classes. These classes are offered through the OASIS program.
You may be asked by your surgeons office to attend a review(in person or by telehealth methods) by one of our Internists at the Richmond Hospital GIM clinic. The goal of this visit is to identify and treat/optimize any acute or chronic health concerns before surgery. The internist will provide guidance on when to stop your ASA or blood thinning medications.
Closer to the date of surgery you will be contacted by the hospital to be seen in the preoperative clinic. At that time you will be interviewed by one of the pre-op nurses. Appropriate blood work, ECG and x-rays will be obtained. You will likely also be seen by your anesthetist on that same day. You will be instructed on which medication to take on the day of your surgery. You should also confirm when to stop any ASA or blood thinning medications.
Ensure that you have obtained all appropriate equipment for use at home. (e.g. walking aids, raised toilet seats, bath bars). This equipment should not be brought to the hospital. Here is a list of appropriate equipment for your surgery.
It is highly recommended that you obtain a cryotherapy (aka cryocuff, ice machine, Cold Rush, Kodiak, Polar Care device) for use following your surgery. This device SHOULD be brought with you on your day of surgery. Icing devices
Be aware of when to stop ASA or other blood thinning medications.
In the week

prior to surgery
Steps to take the week prior to your surgery

If you have a fever, flu, or any other concerning symptoms, please notify your surgeon's office as soon as possible prior to your surgery, as your surgery may need to be postponed.
Confirm that your Coach is available
On the Day prior to surgery
Steps to take the day prior to your surgery

-Pack a small bag with:
Basic toiletries, (toothbrush, toothpaste, hairbrush etc…)
Loose fitting clothing to wear home
Shoes, slippers with non sip soles
Credit card info for things like hospital TV, Cable etc..
-Remove all jewelry and piercings
-Clean your skin as instructed by the pre-admissions clinic nurse
-Bring the following to the hospital:
BC Services Card/BC Health Card (Personal Health Number) Photo Identification, such as a drivers license.
Hospital identification bracelet, if you received one from the laboratory.
Any medications that the pre-admission clinic asked you to bring
CPAP machine (Breathing machine) or dental devices if you use them
Ice machine if recommended by your physician.
Find a Surgical support coach
The right support with help with your surgical journey

A Surgical support Coach is a integral member of your surgical team support team and will help you in all aspects of your surgical journey. Your coach may be your spouse, partner, our of your children or friend. Your "Coach" is your personal health cheerleader, guide and partner on your surgical journey. It is important to choose your Coach as soon as you have consented for surgery.
In choosing "Your Coach", you should look for an individual who can:
Help you achieve your pre-operative "Prehab" goals
Attend pre-operative visits with you
Be present on the day of surgery to take you to the hospital and talk to the surgeon after your procedure
Be available and capable of getting you home after surgery
Stay with you for 24-72 hours after the surgery to help you with meals, medication and mobility
Be available later to help you attend therapy, doctors appointments, etc
While Your Coach does not require special skills, it is important to choose someone who is available throughout your journey and someone who shares your desire to see you achieve the best possible outcomes from your surgery.
Once you know your surgical date
Steps to take once you are given your surgical date
Nutrition Self Assessment
Ask yourself these three questions:
My BMI is <20: (How to calculate my BMI)
I have lost weight in the past 6 months without trying to lose this weight?
I have been eating less than usual for more than a week.

If you have answered yes to one or more of these questions:
To improve my nutritional status I have:
Meet with your primary care provider about my nutrition. Request that albumen and Vitamin D blood tests be ordered.
Your physician may suggest that you meet with a dietician
Online Resources 
Search the following resources on the internet to learn more about proper nutrition:
Weight Loss
When you're overweight, every extra pound puts 4 to 6 times more force on your joints. If you're already experiencing the symptoms of osteoarthritis, weight loss may provide relief from pain and increase your ability to move and stretch. Making small changes to how and what you eat can help you to move towards a healthy body weight. 
 A 5-10% drop in your weight can improve operative outcomes. 
On-line resources:
Ask your Family physician or your surgeon about referral to the

Get to Surgery

program

 
Smoking Cessation
Smokers are at greater risk of surgical complications than non-smokers. It takes longer for their surgical wounds to heal and those wounds are more likely to become infected. They have a higher chance of developing lung and chest infections. Furthermore, smokers have average hospital stays after surgery that are longer than non-smokers. 
However, patients who quit smoking at least eight weeks before surgery fare better after surgery than smokers who continue to use tobacco. These patients also experience fewer complications when under anaesthesia during surgery. Finally, because these patients are in a situation where the symptoms of withdrawal may be lessened, their chances increase for long-term success with smoking cessation. 
Online Resources
Search the following resources on the internet to learn more: 
Physical Activity
Exercise is an important part of managing osteoarthritis.
Regular exercise will keep your cartilage nourished, your muscles strong, and your joints flexible.  Exercise will also help you to manage your body weight.  Every extra pound you carry puts 4-6 X the force through your hips and knees, adding extra stress to your joint.

 

Talk to your physiotherapist or doctor about what kinds of exercises are right for you.

 
Online Resources
Search the following resources on the internet to learn more: 
Rebalance MD Patient Resources

 
Glycemic Control (Diabetes or pre-Diabetes)
HbAic greater than 7 may delay your surgery. It is imperative that you improve your glycemic control as soon as possible. Your HbA1C should be tested every 3-6 months, it may be done more often if my glucose levels are changing quickly. Preoperative glycemic control has been shown to lessen post-operative complications including infection, wound healing and other medical complications. 
Online Resources
Search the following resources on the internet to learn more: